I don't know whether to keep my eyes on the stock market, the election campaign or the badminton All England tournament. On the stock market, things don't look very good. I think we are heading towards a very bad financial crisis and I don't think Asia or the rest of the world is decoupled from US. You can check Malaysia's KLCE performance at Yahoo Finance, for example. On election, things are getting a little interesting. Tomorrow is polling day and all Malaysians will be glued to their TV or computer monitors. On badminton, ahhhhh....

It has been an exciting tournament so far. Two of my favourite players were on court today. Indonesian Taufik Hidayat wants to capture the only major title that is missing from his collection. Malaysian Lee Chong Wei wants to go one step further by playing in the finals. Eventually the game was won by the Malaysian (23-21, 21-17). Both players made some mistakes in the game. Lee was a little passive in the first set and he seemed overcautious, playing more rallies and seldom attacked. His signature cross-court smash was also missing. Taufik had 3 matchpoints before Lee caught up. Taufik applied the pressure on Lee in the second set, and I thought Lee was going to lose this one. After the 11-point break, Lee stepped up the gear and was leading all the way. His defense was better. His net-play seemed better than Taufik's.

I feel sad that Taufik missed his chance to complete his collection of wins but believe he will try again next year (despite his intention to hang his racket after the Olympics in Beijing). At the same time, I feel happy that Lee has made it so far and hope that he will achieve his dreams. It was nice to see Taufik boyish smile when they shook hands after the game ended. I think Taufik did not mind losing to Lee.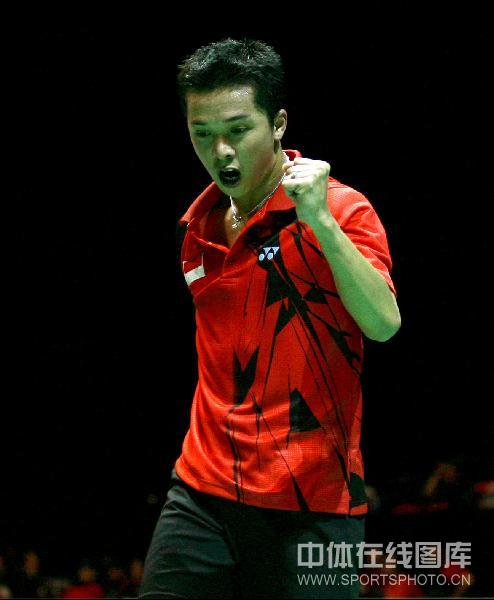 It was quite heartbreaking to see Malaysia's number one women singles player lose in today's semi-finals. Wong Mew Choo had her chances when she beat Korea's Hwang Hye Youn in the first set. She played more attacking style in the second part of this set to win. However, in the second set, Hwang was getting to the net and shuttle earlier and making excellent shots. Wong was rattled and trailed too far behind. She should have just let the match go and concentrate on the third set, instead of wasting her energy on long rallies. In the third set, Wong tried to pressure Hwang but to no avail. She seemed happy to push or lift the shuttle from the net, instead of varying her shots more. The game ended with 17-21 21-10 21-13 in favor of the Korean lass.


What interest me in this game was the Malaysian coach's (Wong Tat Meng) advices to Wong during the intervals. He was speaking in Cantonese. After she won the first set, the coach said "hai mai hai mai, kom nyong ta hai ngam keh, ngam mo ngam mo" - correct, correct, that's how you should play, correct, correct. And something like to continue playing the same way. During the second set 11-point interval, he said "ting chi la, ting tak to mo? chang lok huei" - can take it or not? endure. Playing for the last set, he said "hai kom ke la, hai kom san fu ke la, nei pa pin to mou san fu keh? hai kom san fu ke la" - it's always tough, don't you remember? it has never been easy for you, it's always tough.

I talked about this to Amy. She said the coach should have told her to change her strategy - give her more tactical advice. It is good to give a psychology boost but you only need to spend a few seconds on the tactical aspect. Couldn't agree more. If Wong had changed her strategy, the outcome could have been different. That is why it is so heartbreaking. Perhaps Wong could have won. Lee, on the other hand, has the ability to change strategy midway in the game. Perhaps Lee should have sat next to the coach and help her during the interval. Who knows. Zhang Ning has done that before for Xie Xingfang.

Malaysia's other hope is the men doubles pair of Lee Wan Wah-Choong Tan Fook. After losing twice to Denmark's Ericksen-Lungaard in the finals, this would be their best (and most likely last) chance of redeeming themselves and making their long overdue mark in the badminton books. Park Joo Bong, the legendary men doubles player from Korea in the 80s once said that this pair was very promising and predicted a successful career for them. However, the only major title that they have won is probably the ABC championships held in Johor Bahru one year.


The veteran players have been through it all. They had appeared in local headlines reporting their bad relationship among themselves and with their former coach, Park himself. They had undergone surgeries after bad injuries from playing badminton. I watched their All England final games. And when they lost the second time (they played brilliantly in the beginning but everything just collapsed toward the end), I couldn't imagine how disappointing it must have felt for them. Still, they bounce back. Time and again, they bounce back.

Even the current coach, Rexy Mainaky, is all praised for them. Although they are oldest pair in the national squad, they are training even harder than the younger pairs. Such is their dedication and commitment. Perhaps this is the reason they are the only survivor in this championship. All the other Malaysian pairs were knocked out after the first round, including the defending champions. Strange, but perhaps experience makes a lot of difference. Let's hope their experience will lead them to close the chapter with wonderful memories.

So, the battle continues.....

[Pictures from badmintonforum]